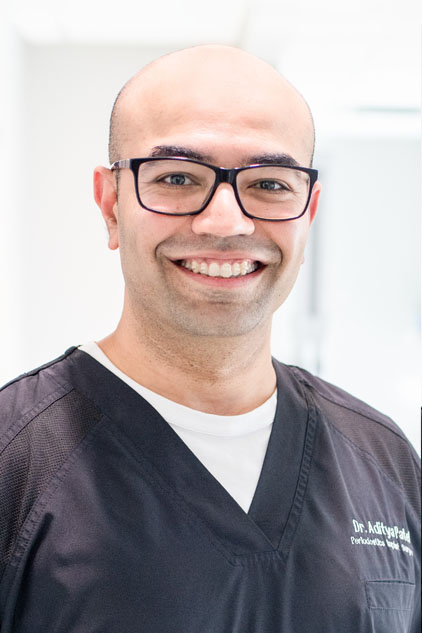 Dr. Aditya B. Patel
Dr. Aditya Patel is a certified specialist in Periodontics and is a registered Fellow in the Royal College of Dentists of Canada. In 2012, Dr. Patel graduated from the Doctor of Dental Surgery program at the University of Toronto. Following graduation, Dr. Patel enrolled in the Masters of Periodontics program at Dalhousie. During his residency he became well-versed in providing care in all aspects of periodontic specialty treatment and dental implantology.
He shares a special interest in periodontal tissue regeneration, advanced bone grafting and CBCT-guided implant therapies. Following graduation, he immediately became part time clinical instructor at the Faculty of Dentistry and he continues to teach in 4 th year DDS clinics as well as supervises Graduate Periodontics residents.
Dr. Patel is the President of the Canadian Academy of Periodontology (2022-2023) and an International member of the American Academy of Periodontology. He is also co-director of the local study club called Perio By The Ocean that organizes periodontal related hands on workshops.
Dr. Patel currently works in private practice in Halifax, Dartmouth, Truro and Sydney, Nova Scotia. A dedicated, caring professional, Dr. Patel is a family man who enjoys spending time with his family  and is his free time plays in recreational sports leagues around Halifax.